Our Services
Evening Disco Packages
Our Evening Disco Packages provide all you need to get your Wedding or Party in full swing! Elegant lighting, great sound and your favorite playlist. See our most popular packages listed below.
Venue Mood Lighting
Our Venue Mood lighting are wireless and can be set in your choice of colours. Theres no cabels and no mess! Our price if booked as a stand alone service is £200.00, or £150.00 if booked with any Dj Package
Selfie Wizard
The Selfie Wizard allows Guests at your event to upload photos from their own Mobile Phones to display on a TV SlideShow and with the option to produce instant prints Our Selfie Wizard can be booked alongside our Evening Disco service or as a separate service
Evening Disco Packages
The prices shown below include your DJ for the evening and are based on 5 hours playing time i.e. 7pm until midnight in the local area (Northamptonshire).
A small additional charge may be added for events outside of our local area.
An experienced professional DJ
Dj Lighting suitable for your venue
A powerful quality sound system suitable for your venue
A choice of a black or white starlit DJ Booth
Free Haze Machine if your venue allows
Wireless microphone for planned speeches
Online Event planner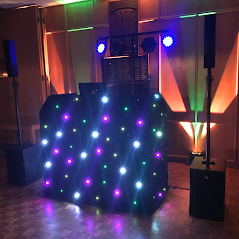 Request A Quote
2x barrel lighting effects projecting shapes and colours around your venue
2x Moving lights placed on top of the uplit vertical columns
A powerful quality sound system suitable for your venue
A choice of a black or white starlit DJ Booth
Free Haze Machine if your venue allows
Wireless microphone for planned speeches
Online Event planner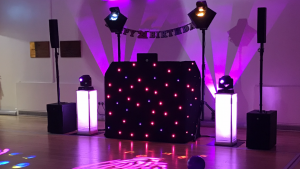 Request A Quote
Our diamond package includes everything from our Silver Package
2x barrel lighting effects
2x Moving light placed on to of uplit vertical columns
A choice of a black or white starlit  DJ Booth
Wireless microphone for planned speeches
Online Event planner
Plus our Venue Mood Lighting set to your choice of colour.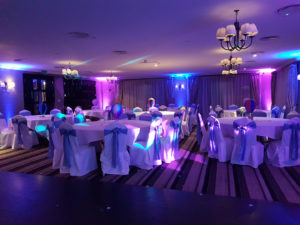 Request A Quote
"Andy provided the disco for our evening reception, he was fantastic! The dance floor was buzzing all night and never empty. We chose a selection of songs to be played and Andy managed to get them in and keep everyone dancing. Would highly recommend for any occasion. Thank you so much."
Ross & Steph Horne
Great sound system, very helpful team, will bend over backwards to ensure your special occasion happens to the best standards. Would definitely recommend this company for your occasion's music entertainment.
Gillian, Elegance by Design, Corby
Thank you so much for being our DJ at our Wedding, you did an amazing job! We couldn't have asked for anyone better for the job!
Shaun & Jess Baseley
Booked Andy for Dad's surprise retirement party. Very professional – great light show. I did search around for a DJ around the area and I'm very happy with my choice, and at the best price as well!
Tony – Ise Lodge Community Centre, Kettering.
Thanks California Discos. Great Night. Brilliant Disco provided.
'Run For Home' at the end was simply amazing. We'll remember it forever
Kevin & Victoria Scales
The night couldn't have gone any better, and Dad had a great time; he was still buzzing the next day. We thought the choice and variety of music, the level it was played at, and your own presentation skills were superb and really helped to contribute to a very successful evening. We had a lot of great compliments about the disco, and I hope you get some more business as a result.
So thanks once again and, if it can be of any help, I'm more than happy for you to pass my email address on to any prospective clients.
Martin Haddon
Just wanted to say thank you for helping to make Peter's 18th party such a success last Saturday.
Everyone had a great time and the disco was just right for our guests- it was great to see so many of them dancing (also thanks for playing so many of our requests!).
If we're having another function in the future, we won't hesitate to contact you again and we would be happy to recommend you to others.
Carol King
Thank you for a superb disco at Caroline's party on Saturday night. After attending a 50th party the other week and being blasted by music all night I was a bit worried what was going to happen. Your handling of Saturday night was superb as you got the balance exactly right. I did think Caroline flustered you when she asked for Will I am which made me laugh, but once again from Caroline and myself a big thank you.
Steve Plowright
Thank you so much for the Disco at our Wedding Reception in May, many of our guest were up dancing and enjoying themselves. The professionalism which you and the band showed was apparent at all times and it undoubtedly helped make our Reception enjoyable for us and our guests. Once again, Many Thanks.
Janet Mollison.
Thank you so much for my 21st party would not have been the same without you, great choice of music and brilliant company to be in, made the night very special. Cheers for the dance Andy ? x
Lora, Corby
Thank you to Andy for a fabulous night on August bank holiday, everyone thoroughly enjoyed themselves. We really appreciate to range of music you have and your patients & ability to play pretty much every song requested. Thanks again.
Amy & Darren, The Wheatsheaf at Titchmarsh
California disco are the most creative company I have used who show not only a fantastic set but a passion for the role. I have used them more than once and each time they have individualized their sets to their audience. First class service with a first class show! Keep it up lads for me there is no other.
Barry Allum, Chaplins Stage School
"Andy provided the disco for our evening reception, he was fantastic! The dance floor was buzzing all night and never empty. We chose a selection of songs to be played and Andy managed to get them in and keep everyone dancing. Would highly recommend for any occasion. Thank you so much."
Ross & Steph Horne